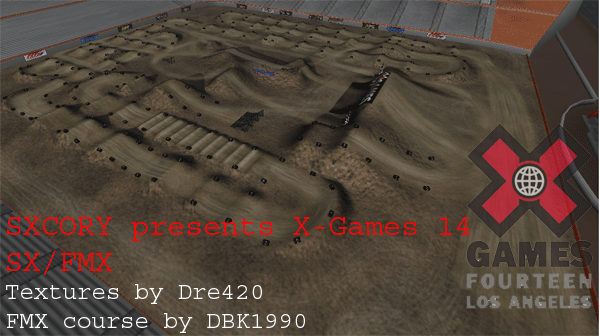 sxcory (Sep 17, 2008)
Here it is finally. X-Games 14, the sequel to my X-Games 13 SX. This time around much more time and work has been put into this track getting it all right.

Dre420 hooked me up with these fantastic textures. Along with an HD Overlay and all the multiex work such as removing the finish gates.

DBK1990 made the FMX course for me. He did a wonderful job on this and it rides absolutely great.

--------------------------

This SX is for SIM PHYSICS.
In-Game name- XG14 SX

The FMX is for Dawsey\'s FMX Physics.
In-Game name- XG14 FMX

Both the SX and FMX are online playable.

Included in this pak are the SX and FMX tracks, DBK\'s navy x-games bales, and the ramp pak. Place the bales and ramp pak in the data folder. The tracks go in the user tracks folder.

--------------------------


I have to thank both DBK1990 and Dre420 for all their hard work in helping me with this great project.

Have at it guys. Leave comments on what you thought. I hope you all like it as much as you liked X-Games 13 SX.


Download for MX vs. ATV — or — Report broken link
Comments are being restored!
Want to help? Send coffee to tk_madmac