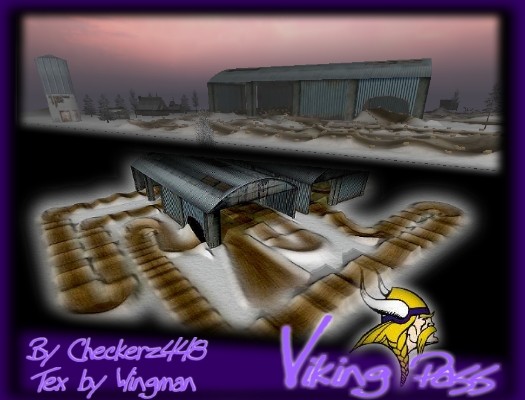 Checkerz448 (Dec 13, 2006)
Wow, I have been working on this thing off and on between other projects for atleast 3 months. A little background: I started wanting to make a track that was snowy outside, and then under the roof tops it was mint condition. I struggled getting a snow texture and gave up that idea. I went with grass outside and a dirt floor inside. Well, then I sent the project to Wingman for beta testing, and he made my vision come to life. Pretty amazing for an artist who has never seen snow before! He also says it's my best disp map so far, so those of you who have played my other tracks and enjoyed them, I guess this is a must have.

In Game Name:
Viking Pass (under national)
Average Laptimes:
Just under two minutes, 1:40's if you are hitting your lines right.
Style of track:
A bit larger scale SX. Long with a lot of rhythm sections and a creative layout. Goes in and out of hangars from snow to premium soil. No traction map on this one, the track didn't ride right with one.
Extras:
Mud Accum.
Remove Start/Finish Gates
Proper collision on over under (thanks RaceX and Wingy for the explaination)
Wingman also did the off track and put a little frozen over pond in, pretty neat and goes well with the theme.

All in all, I hope you enjoy the ride. Sorry the hangar thing has been done so many times by now, just was rare when I first started this and it wouldn't be right without the hangars. I have a lot more in the works, let me know what you like and don't.

Thanks again to Wingman, RaceX, and everyone over at www.motocrossgamingforums.com (the place to go for MVA news), as well as everyone who has made tutorials and tracks for this game. And also, thanks to all to great reviewers out there.


Download for MX vs. ATV — or — Report broken link
Comments are being restored!
Want to help? Send coffee to tk_madmac