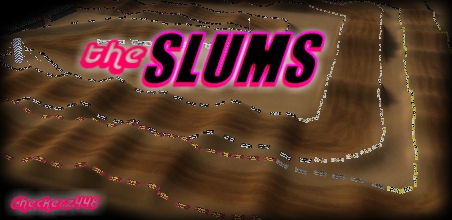 Checkerz448 (Jun 01, 2006)
Yep, I'm not kidding. I already have another one for release. Don't worry, it wasn't rushed, I had almost complete before releasing The Outlaw. I was going to wait to release, but I figured there are a few of you out there that wouldn't want to wait to play a quality SX track. My other tracks have all been missing something, I put everything I have learned into this one and here it is. This is my masterpiece...atleast to me. I finally got the mini map, my textures are the best I will probably ever do, the track is lined neatly with bales. The track has a nice layout with fun jumps and many lines and rhythms, but they arne't hard to figure out. Best part of this one is if you mess up, you still can find a fun and good rhythm. Love it, hate it, review it or don't, I could care less, this one is my favorite and I will have fun playing it regardless. Thanks to bonds and hannylicious for the reviews on the Outlaw. Thanks to Nesc for the many comments and critisisms, plus the help on the mini map. Thanks to AMA_RaceX for the map help too. Have a nice day.
Download for MX vs. ATV — or — Report broken link
Comments are being restored!
Want to help? Send coffee to tk_madmac