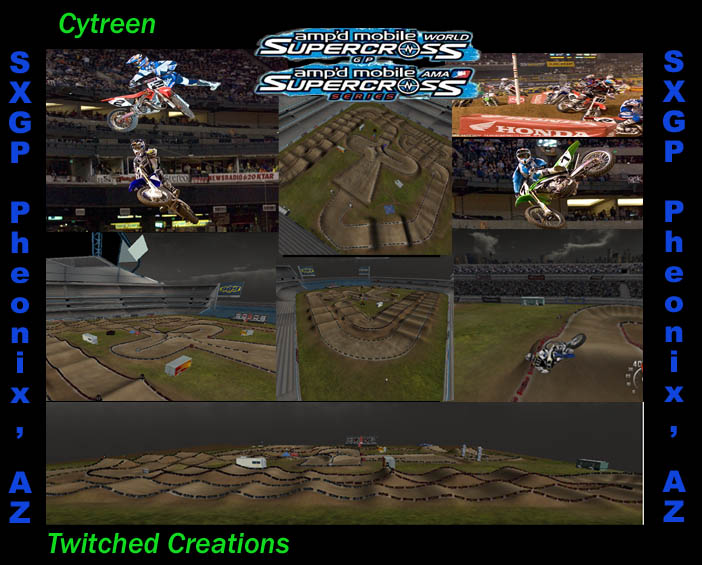 Cytreen (Feb 26, 2006)
Let me start off by thanking some of my beta testers. EOD_Sandman, Mayfly, and some of the MDX team. This Track would not be posable without there help. This is my vary first replica so go easy on the flaming lol. I tryed to get as close as i could to the actual track. All the lines are there. I had to add to this track from the real track to make it really fun. There are some inside lines and some bumps in the corners. The turn befor the rythem section on the out side is really bumpy. I had to add that or you would be able to just jump that secton in in 2 or 3 jumps. I wanted the track to have multiple line and not as one lined like the real track. Its just isnt fun in this game. The track was tested with the 250 and everthing is really hard on the 125. Your going to have to work to get thoughs fast time on this one. The textures are ok but i really can get the real looking textured ruts. I didnt make the ai fast cuz i just cant get them to work right. I have a lot of objects in this track but in testing nobody ever got any lag. The tire stacks are to prevent corner cutting and Some are to make it harde to take the inside line. If you have lag then use the fog edditor. If this dose not help try adjusting your video settings. Im only going to make a few replicas untill we can use custome objects. Im wanting comments on this track so feil fee to do so. I hope everone find this track really fun . You can look for some really close racing on this one.
Download for MX vs. ATV — or — Report broken link
Comments are being restored!
Want to help? Send coffee to tk_madmac