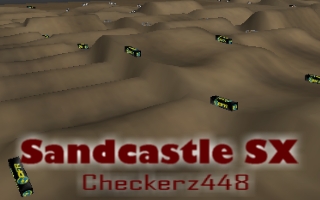 Checkerz448 (May 01, 2006)
Well here is the latest. During 3 days of solid rain and nothing better to do, I spent almost every hour awake working on this track. It's a super technical SX with tons of lines. I tried to make it somewhat sandy with some beat down areas and lots of inside berms. Getting a clean lap on this should be a challenge for most. I tried something new with the textures, hopefully you like. Another thing I liked about this track was preloading everywhere wasn't the fastest line, a mix of staying low and preloading in some spots will be needed to run the fastest lap. Mix and match lines and have fun. Feel free to leave me some comments on what you would like to see, I'm always open minded to ideas, suggestions, and like anyone I like compliments too!!! Enjoy, and if the rain doesn't clear I might have another not too far around the corner!
Download for MX vs. ATV — or — Report broken link
Comments are being restored!
Want to help? Send coffee to tk_madmac