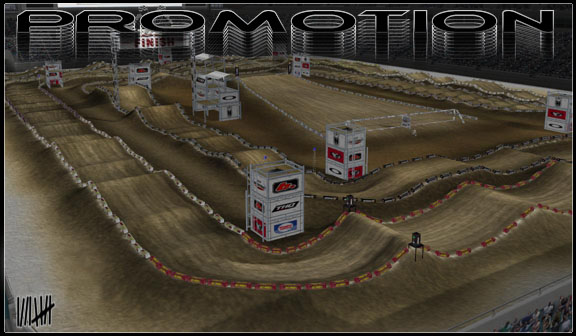 MX45 (Apr 23, 2006)
In-game Name: 45ProMotion
Track Description Technical SX with many lines and rythms.
Lap Times: Average Lap: 1:08 Clean Lap: 1:05 Fast Lap: 1:03
Tools Used: Photoshop CS2, 3DSMax 3.1/8,Unleashed Editor V.1, Track Map Fixer by Bruce, Hex Workshop
Files Uploaded: Displacement Map, Texture Map, AI Spline, User Spline, Track Pic, Track Pak File PLEASE DO NOT RIP
Thanks: Everyone for beta testing and just running 100's of laps with me. Special thanks to VMX team, Ghetto team, KX_Rider#101, 1MP, Knate, and my lil sis 4twentee for riding way too many laps.
Comments: To tell you the truth this track is not near where I would like it to be. But I've held on to it too long, and my free time is becoming more and more limited. So, enjoy it for what it is. And if the whoops are too hard, good.
Download for MX vs. ATV — or — Report broken link
Comments are being restored!
Want to help? Send coffee to tk_madmac