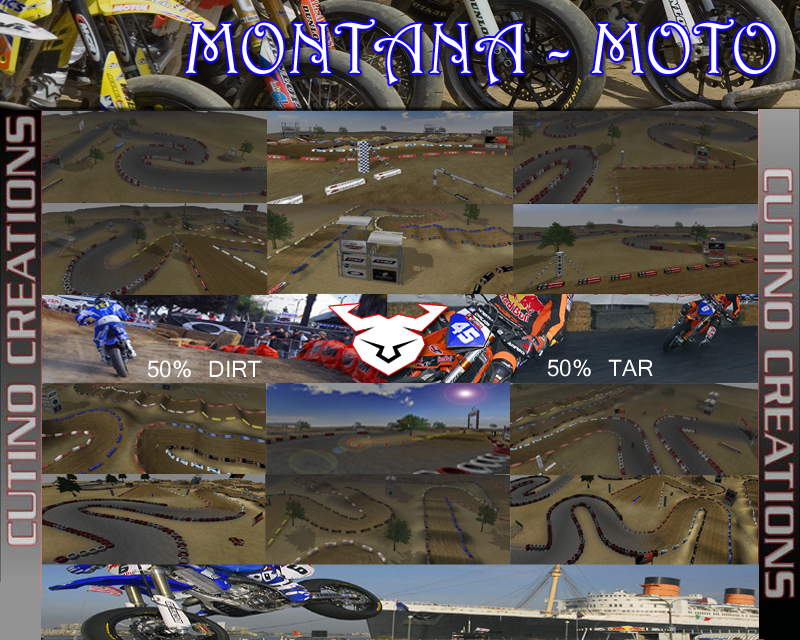 Cutino_Creations (Nov 30, 2006)
Hey here it is Montana Moto...

I can not express the sh!t that i went through with this track....but after placing objects 4 times and trying to get it 2 render so many times without the whole thing going black i got it 2 work!

Well i know peeps are gna complain about the traction map on the tar that its too jumpy (sticky on and off) But i couldnt fix this because i couldnt repak so i had to leave it like that, you dont even notice it after awhile anyways so yah...(plz dont complain) =(

And for the dirt i did NOT put a slipery traction map on because it feels gay and the track runs better without it so yeah.....

Other than that i think this track came out PERFECT...It flows really well and im happy with everything!! It really is fun!

Thank you Race_x for helpimng me out with the multiex problems!

Its got all the goodies!

Intro Cam
Sunflare
Animated camera men
Animated sounds ( no annoying crowd sounds! ha ha)
finish gate removed
dirt roost taken off start
Custome dirt colour

I think thats all...

Well anyways please enjoy it..
If peeps like it i will probly make a round 2 or something!

Cyah

Nico...
Cutino-creations...
Download for MX vs. ATV — or — Report broken link
Comments are being restored!
Want to help? Send coffee to tk_madmac