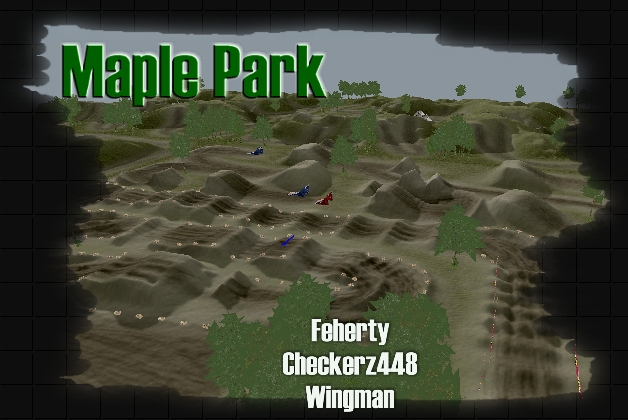 Checkerz448 (Jan 18, 2007)
About the track: An outdoor supercross with rough and ruts. Short lap times around the 40 second range. A freshly ripped up grass texture. Multiple lines and arm pump are a definite on this one. Just as fun and complete as the SX is a complete FMX course surrounding the race track. many hits and a great flow make it a top notch FMX course. The perimeter tiles are graced with a green hills freeride area. Many lines are layed out through the texture and disp work, but there are many more to be found.

Here is an outdoor supercross originally designed by Feherty. He sent the project over to myself for some testing and allowed me to make some changes to make the project better. The layout was never changed and the main disp map work done by me was smoothing the flow of the rhythm sections and making multiple lines work a little better. I then roughed and rutted the track up to make it a pretty crazy ride. After that, the full on FMX course and freeride sections were also added. Wingman hooked up some great textures and Feherty placed some objects. It was a full on team effort, and without any of the pieces this puzzle wouldn't be complete.

A lot of time has went into this project, hopefully everyone will enjoy it for what it is. A little taste of freeride, FMX, and SX.
Download for MX vs. ATV — or — Report broken link
Comments are being restored!
Want to help? Send coffee to tk_madmac