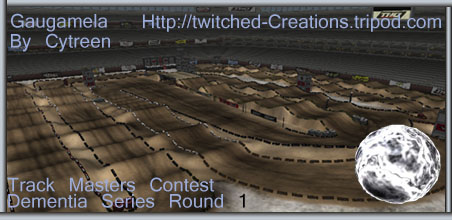 Cytreen (Jun 08, 2006)
Well hear it is. My entry to the track masters contest. The are a lot of lines to choose from. You really need to be on your toes to go fast. I spent a lot of time on this track and i hope you all like it. Its round 1 of the Dementia series.

Fastest lap on 250cc 1.35

Tools used: MVA Edditor, PS, PSP, Corel Photo Paint, and 3d-Max 6

Thanks to all who beta tested.
Download for MX vs. ATV — or — Report broken link
Comments are being restored!
Want to help? Send coffee to tk_madmac