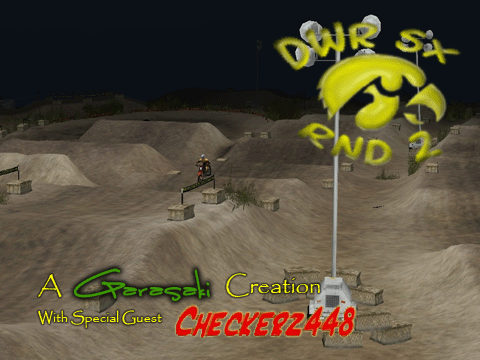 Garasaki (Jun 03, 2008)
I apologize for uploading a link, but mcmfactory won\'t host a track larger then 20 megs :(

So get this track at

http://www.motocrossgamingforums.com/index.php?act=dscript&CODE=showdetails&f_id=227

Original Description:

Techy Hi Def SX
Disp map by Checkerz448
Textures by Checkerz448

Objects and assembly by Garasaki

This is a really fun little track. Techy SX with lots of lines. Much thanks to Checkerz for letting this one come to life. Genius disp map dude...genius. Conversion to Hi Def by yours truely. This is the first of several tracks in the DWR Series I hope to release featuring Special Guest Creators.

Enviroment based on a local track that Checkerz and I have raced at, Hawkeye Downs.

Super duper thanks to Laurie of Twisteddirt fame - for helping with Unleashed Editor Too as well as a lot of one on one favors. Thanks man!!

Thanks to everyone who\'s objects I\'ve used, including John (Messiah), yFMX, Quick, and DBK1990.

Thanks to everyone who continues to support this game.

Download for MX vs. ATV — or — Report broken link
Comments are being restored!
Want to help? Send coffee to tk_madmac