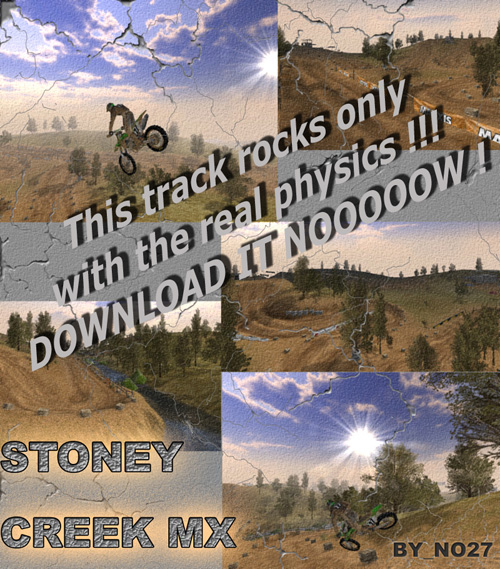 nø27 (Jan 05, 2007)
SABBATHACKER INTERNATIONAL (SHI)

proudly presents

CAFFEINE for MX vs ATV Unleashed


Everyone knows about that second-rate hack MVA_WFOO_MOD
by now. Yeah, it's much faster than a stock bike/ATV, but
it's too uncontrollable because of the combination of
speed and having to use the Pro physics model.

Sabbathacker International's Caffeine goes far beyond that, so much so that we can hardly compare this work-of-art to that mediocre hack.

Just unpack the !SHI_Caffeine.PAK file to your MVA/Data directory. Oh, be sure to remove that other hack (if you are using it) or they will conflict with each other.


Highlights of Sabbathacker International's Caffeine for MVA are:

* Race and Pro physics handling are identical (both are based on the original Race physics), so no more jittery handling when using Pro physics.


* Both physics models are enhanced, so you're never riding stock. Instead, you choose which level of speed you prefer. Race physics are faster than a stock bike/ATV, but not as fast as Pro physics. Pro physics are slightly slower than that aforementioned hack which lends itself to better handling overall. Other than the raw speed there is no difference between Race and Pro physics.


* Wheelies and Stoppies are enhanced. Try them at any speed and see.


* Backflip and 360 rotation/braking speeds are increased. Did you ever wish you could land a 7, or even 12, rotation backflip? Now you can! It is not unheard of to pull off a 1,000,000 point SINGLE backflip or 360 combination stunt!


* Landing off any jump is virtually crash-proof! Try landing into corners in the direction you want to exit. Landing perpendicular to a jump (almost 180 degrees from your launch trajectory is doable.) Try landing into the face of a jump! (Hint: Due to the nature of this mod, it is better to wreck than to time out. So, if you go off the track be ready to hit one of the stunts and ride it to the ground to force a wreck. This method will get you back into the race ASAP.)


* On the rare occasion when you do wreck, the time you spend on the ground is cut in half.


* All Bike and ATV models are enhanced (50, 125, 250, 500, & ATV)


* Other things are possible with this mod, but we'll let you find that out for yourself.

Enjoy!
Download for MX vs. ATV — or — Report broken link
Comments are being restored!
Want to help? Send coffee to tk_madmac