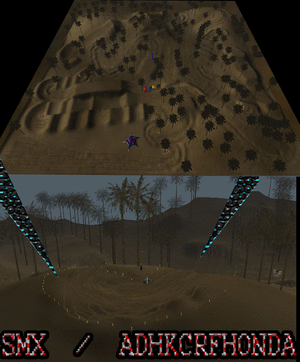 adhkcrhonda (Dec 07, 2008)
SMX... Well here is my national that i have worked on for a long time. It is for stock physics but will work with sim, but it will be hard to clear some of the jumps. And if you cant clear some of the jumps with sim get the 500. The track runs pretty good with it. The lap times are around 2:00 to 2:05.(on stock 450cc)Thanks soooooooooooooooooooooooooooooooooo much to mike154owen for objects and the preview picture(go download and review his track
http://www.mcmfactory.com/display.php?cat=mva_tracks&id=2625). In the rar. i put the objects pak. files just in case you dont have them. :) So PLEASE DOWNLOAD AND COMMENT!!!!!!!!!!!!!!!!! its not that hard!


Download for MX vs. ATV — or — Report broken link
Comments are being restored!
Want to help? Send coffee to tk_madmac