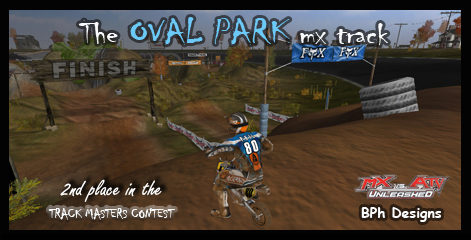 BPh_Designs (FnF_Phil_80) (Jun 08, 2006)
Here is my OVAL tracks pack.

OVAL MX TRACK : 2nd place in the Track Masters Contest (nationals category). Need 5 laps to know the best lines, than it's a pure pleasure to ride. Thanks to all the judges for their comments...

WINGMAN :
6/10 Displacement Map
will i see that this track was well thought out with the oval track national track and the supermoto track. i thought the national dismap was ok but i was t feeling it i didnt like the going down the valley then going up the valley thing if it wa snt so steep then it wout nt bother me other then that pritty fun for sure
8/10 Textures
tex were great very ez on the eye and ez to see the path
10/10 Innovation
very inovative track with the water falls and sun flare and sounds good job useing add on s
8/10 Object Placement
there was alot of objects used on this track i didnt free ride this track i only saw what was in the path of the track it self.. the was bridges and trees and bushes no lag might have bin over loaded with objects but with the supermoto and oval track crossings i under stood
6/10 Fun Factor
________________________
TOTAL 38/50

MX45:
5/10 Disp Map
The track was rideable, and you could find all the lines and link them together, but it takes a while to know the track. Some sections have a steamer feel, others have a pro national feel.
6/10 Textures
The world textures are nice, but on track is average.
8/10 Innovation
The things too check out off track are really fun. And things like the sounds you hear while riding around keep you interested.
7/10 Object Placement
There are plenty of them, and most are placed nicely. But some objects were a bit overkill.
7/10 Fun Factor
Once you learn it you can have fun laps. And all the extras around the track add to the fun factor.

Additional Comments
Just hope people give your track more than 5 laps.
________________________
TOTAL 33/50

ALBA:
7/10 Displacement Map
The displacement map was a little rough in some areas but I know you spent a lot of time working on it. I enjoyed everything except for the huge ditches because it made the track not flow. Other than that you did an awesome job on the displacment map. I cant wait for your next!
8/10 Textures
Textures were some of the best that I have had the priveledge playing during my reviewing of the tracks for this contest!
10/10 Innovation
You had some interesting effects such as the sun flares and noises that helped keep my attention on your track which really did make me go wow so I commend you for that! It was awesome!
8/10 Object Placement
Object placing was extremely good and I enjoyed being able to see where I was supposed to go in every section.
8/10 Fun Factor
I enjoyed almost ever section except for the dips but this track is extremely good and I can't wait to see your next one.
________________________
TOTAL 41/50

CHYLD:
5/10 Disp Map
there were parts of this track that were really nice, and then there were parts that were horrible, i think the parts where you go down into the gulches and big ditches, really hurt this map.
8/10 Textures
Textures were pretty nice, they really helped set the theme of this track.
7/10 Innovation
i really think some cleverly placed objects and sunflare combined with the ambient sounds helped set the theme/mood of this track, innovative in that sense
6/10 Object Placement
good object placement, although i really hated the s turn part
6/10 Fun Factor
id have had more fun on this track if it werent for the ditches and the sturn section.

Additional Comments
almost had a awesome track here, the disp could have been much better, and the sturn could have been removed.
________________________
TOTAL 32/50

___________________________

In another upload you'll find...

OVAL SUPERMOTO TRACK : another part of the circuit made for the supermoto bikes. Have fun.

OVAL SPEEDWAY TRACK : a special 4 wheels track in a rainy day, enjoy the ride... (tip: pass the finish line on the center of the spline, if you are too much at the right you'll be called back).

I worked a ton of hours on these projects, I hope you'll see the good job done.

Phil.
Download for MX vs. ATV — or — Report broken link
Comments are being restored!
Want to help? Send coffee to tk_madmac