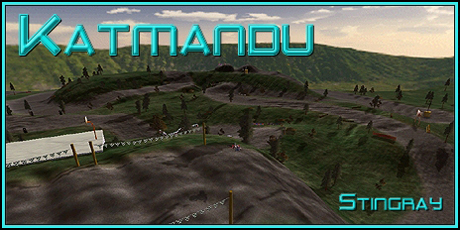 B2R Stingray (Oct 01, 2006)
THIS IS A MCM2 TRACK.
For those that still have the game here's another fast and furious ride.

Here's another fast one from me with some bumpy sections to keep you on your toes. There are a lot of small elevation changes along the way and a couple bigger ones as well. I added in some fresh eye candy for certain riders to enjoy, and also oblects from X2, TD, Eldiablo, and HC. Sky is an older one Paul made but It fits this track well. Tried to match the fog and it turned out ok but you can always hit shift/F11 and turn it off if you like. Thats usually how I roll. lol. Lap times under a minute after you find the lines and I think this would make a fun hotlap track if we had a new recorder, hint hint.
Thanks to Statack & Chris for your comments on the preview pics. Anyways, enjoy the ride and review if you feel inclined to do so.
Thanks to Sting and Ray for testing. ;)
As ol Hank would say RAFNL

Sting.
Download for MX vs. ATV — or — Report broken link
Comments are being restored!
Want to help? Send coffee to tk_madmac