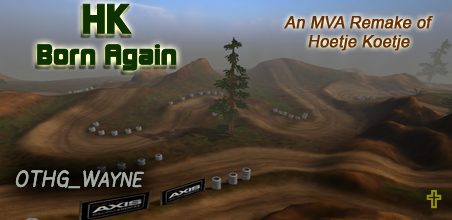 OTHG_Wayne (Feb 25, 2006)
Here's my first MVA track. It is a remake of my last MCM2 track, Hoetje Koetje. It came out pretty well even though I sure wish I had some decent trees and objects to work with, but nevertheless here it is. The ride is challanging, multi-lined and fun too.

Thanks to my beta testers, OTHG teammates Chef, Chris, DoDaD and Velcro.

I think you will enjoy it. A hot lap will probably be around the 2:10 mark. I uploaded this before, but did so as a MCM2 track, so many may not haved taken a look.

Thanks,
Wayne
2-24-2006

PLEASE DOWNLOAD and LEAVE A COMMENT, Thank You!
Download for MX vs. ATV — or — Report broken link
Comments are being restored!
Want to help? Send coffee to tk_madmac