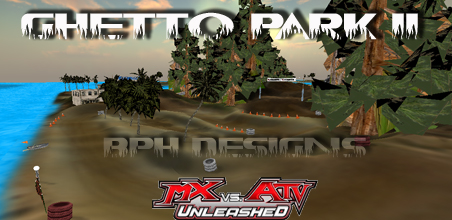 BPh_Designs (FnF_Phil_80) (Feb 15, 2006)
Well, 15th of Febr.06, time to upload my first creation for MXvsATV.
This is a remake of the MCM2 version.
The dispmap is from GHeTTo_Motoman, the rest is from me.
Thanks to Chris and Motoman for the beta tests. I didn't made changes from the beta version cuz the project was really screwed up (shadows, objects placement, ...) and I prefer make another track also.
Thanks to B2R_Stingray for his beta tracks site.
Thanks to TD for the tools they have already done.
Enjoy.
Phil.
Download for MX vs. ATV — or — Report broken link
Comments are being restored!
Want to help? Send coffee to tk_madmac