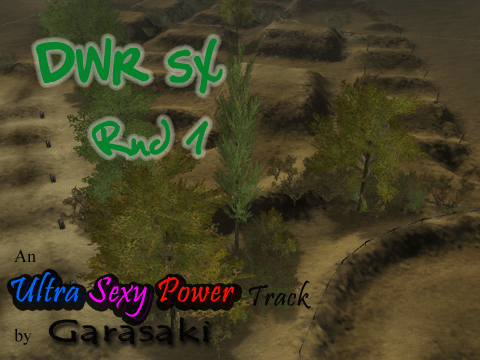 Garasaki (Mar 06, 2008)
Welcome to Round 1 of the DWR SX series!!! A series of highly technical, realistic outdoor SX\'s taking place in local venues.

Warning: this track has a spline problem on the inside of the first left hand corner. I tried and tried to fix it, but never got er done. I decided it\'s time to move onto the next round instead of banging my head against a wall for one little thing though - so please take this into consideration when choosing lines.

This track is a hi def track, covering 6 tiles (rather then the 1 tile standard tracks cover). I made it using my Ultra Sexy Power Trackmaking method and utilizing my tile stitching procedure. If you want to learn how to make tracks like this yoruself, check out www.motocrossgamingforums.com and find my step by step tutorials posted there.

Much thanks to VET DC, who\'s disp map objects form the backbone of this track, Laurie at twisteddirt.com for his work on UE2, HondaRider525 for the texture bases, and Messiah for some awesome objects.

Also thanks to all who beta\'ed this track.

Enjoy, leave comments, and hop aboard the hi def bandwagon - it changes the way you think about trackmaking.


Download for MX vs. ATV — or — Report broken link
Comments are being restored!
Want to help? Send coffee to tk_madmac