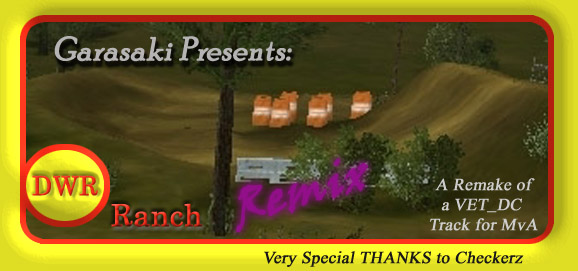 Garasaki (Oct 17, 2007)
Earlier this spring, one of the most unexpected things happened: I saw VET_DC, my favorite creator ever, had uploaded a new track, DWR Ranch. While I was excited, I was a bit disappointed it was for MCM2. However, he was happy to send me the disp map for a conversion to MvA.

What I anticipated to be a quick conversion took a little longer then expected. I received the disp map on May 22, and finally, on Oct 16 (5 months!?) I'm ready to release:

DWR Ranch Remix (for SIM physics)

This is a super techy SX (found in nationals classification) that you will either love or hate. Even though it is VET_DC's original disp, I have literally modified every pixel - including completely redoing 25% of the track. I feel the final product will make Derek proud.

This track has the essence of what made the old DWR tracks great - a technical challenge with lots of replayability. You will have to put effort into choosing lines on this track. And you will have to slow down to go fast in some cases.

I must give a big thanks to Checkerz448, who is the best beta tester ever. On 4 separate occasions (actually 5 now) I told him explicatly that I was finished with this track, and each time he convinced me to change it again. And not minor changes either!! This track would not be what it is without his help.

I would also like to thank WilsonATV for additional beta testing, as well as MX45 and Paul (El Diablo) for some guidence along the way.

Disp map done in PS, tex's started in terragen then finished in PS.

Enjoy, and everyone thank VET DC every chance they get!!
Download for MX vs. ATV — or — Report broken link
Comments are being restored!
Want to help? Send coffee to tk_madmac