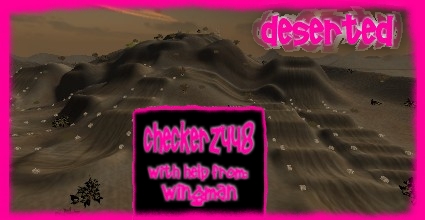 Checkerz448 (Aug 27, 2006)
Well here is another national from me. When I started this project I wasn't the best at doing anything on a national, but I knew I wanted some good elevation with atleast one good drop off and some step up style jumps. After a LOT of tweaking, tweaking, and retweaking again I have a pretty nice flowing fun disp map here. Wingman did some sweet textures for the desert, along with one of his new and improved barely noticable, yet it is there traction maps, sunflare, all the goodies he always does. Just a note: the finish is on the step up before you hook back onto the start, sorry I once again forgot to mark it; wingy did all his dirty work and I just realized once the gates were removed there was no marker. All of you that have read my reviews or I have reviewed your track, you should really return the favor if you want them in return. I spend a lot of time with them to try and help out all the creators/downloaders, I expect the same. That said, enjoy.
Download for MX vs. ATV — or — Report broken link
Comments are being restored!
Want to help? Send coffee to tk_madmac