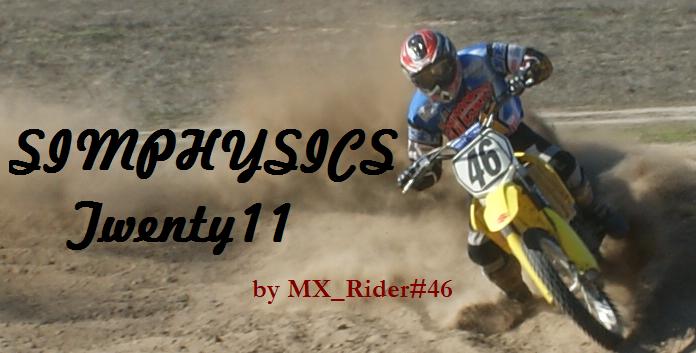 MX_Rider_rm#46 (Feb 11, 2011)
IMPORTANT: (Please read)

This is basically REV physics but with some minor fixes.

Included are 2 sim physic files: $SIMphy_T11.pak and $SIM11_track_edit.pak
(MAKE SURE YOU PUT ONLY 1 FILE IN YOUR DATA FOLDER)
and $$hidden_bikes.pak to make the hidden bikes available.

Installation:
Same as usual, make sure you have a fresh installation of mva, put $SIMphy_T11.pak and $$hidden_bikes.pak inside
DATA folder (C:\Program Files\THQ\MX vs ATV Unleashed\data)
and MXvsATV_SIM.exe file inside mx vs atv folder (C:\Program Files\THQ\MX vs ATV Unleashed).
Click mxvsatv_sim.exe to run the game! If you intend to build tracks use $SIM11_track_edit.pak instead of $simphy_t11.pak
so tracks can be doable on lites (125cc).
Don´t use an old profile, just create a new one and type: "toolazy" as cheat code to unlock all things, make sure you
never overwrite it!

I would like to thank JVDL and all REV team for letting me use some REV files and for the support...
and all track creators that always supported and still support REV physics.

Special Notes: make sure you have a original copy of mva, you do not need to use mxvsatv_sim.exe if your game isn't
updated to v 1.01... for online playing everybody need have exactly same files or else the game will crash!

To increase the challenge try 1rst person view...

all the bikes (except 500cc's) and atv's are using this feature!

check the links below for tracks:

http://www.mxg-hq.com/forums/viewtopic.php?f=34&t=2541

http://revonline.webs.com/tracks.htm

http://www.mediafire.com/?0qeoxy0d23y63i3


have fun!!!
Download for MX vs. ATV — or — Report broken link
Comments are being restored!
Want to help? Send coffee to tk_madmac