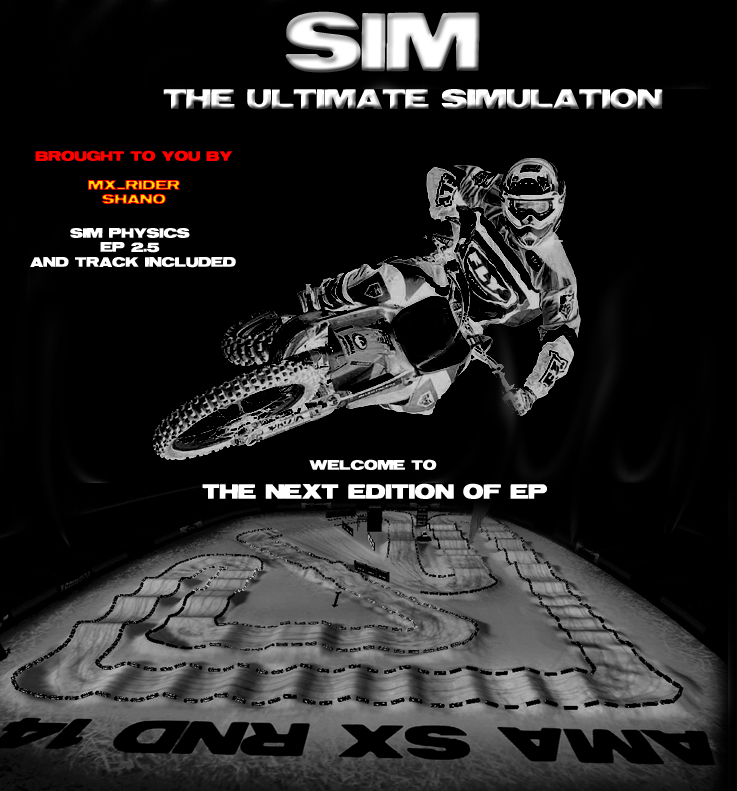 MX_Rider_rm#46 (Jul 05, 2007)
Welcome to the newest edition to the Enhanced Physics, collectively called SIM.

The physics are called SIM Physics because we tried to make it feel as close as possible to a simulation, besides the limitations of this game...

To make the bike, in pro physics ride like it is now, SHANO and I watched closely all the real bike specs, action behaviours and some of the 2007 mx/sx races from AMA/World Championships. SHANO did the hardest work on creating almost all the 2007 AMA SX replicas, taking care the game bike/rider sizes and make it on a very very close scale to the jumps heights and gaps… You will find the bike is better suited to throttle control rather than relying on massive preloading.

We replaced only the pro physics of the game by this new one. The file (sim_phy.pak) was made respecting all players, so we kept the EP 2.5 physics 50cc, 125cc and 250cc on race selection; 50cc, 125cc, and 250cc SIM new ones on pro selection and
we left 500cc untouchable (stock phy) for stock tracks, so everybody don't have to remove the phy pak everytime is needed.

Along with new physics file, it's the AMA rnd14 track replica. This is the first of many tracks that are on the making specially for this physics… we just hope u enjoy it (please try both 125cc and 250cc b4 judge). Because we think everybody have the right to is opinion, all the constructive comments are welcome, we really don't give a damn on haters, if u don't like this simple don't use it, but at least try it once. Pls show some respect even on criticism!!! we have spent alot of time and hard work on this…

Instructions how to use:
Just put sim_phy.pak inside mva data folder, make sure you remove the real_phy.pak from your mva data folder if you have it. The track goes inside User Tracks Folder. You still need to use the first mx vs atv.exe file that came with ep 2.5… theres a no_mud file released by suzuki98 to fix the grey dirt, u can grab it at mgf…

Before we end we would like to THANK in particular Wakestyle and Shadow for let us include the new rider animation on corner… CR for the improved roost/particles file…
and some creators that already released some nationals that are 100% for this pro new physics, No.27, Jacky Italy, Alex 973… and to all the beta testers, u know who u are!!!!

Download for MX vs. ATV — or — Report broken link
Comments are being restored!
Want to help? Send coffee to tk_madmac