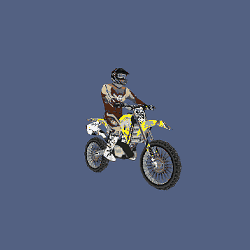 Friedrich (Aug 24, 2006)
I guess it's called unsaran. When you kick across the bars with your foot and one hand off. Based of some old One-handed Canflip I found, flip credit to whoever did that. Anyways, unlocked and replaces hartattack.
Download for Motocross Madness 2 — or — Report broken link
Comments are being restored!
Want to help? Send coffee to tk_madmac