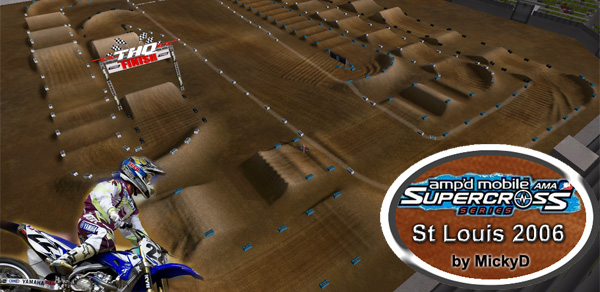 MickyD (Mar 05, 2006)
MXU doesn't interest me all that much at the moment and after seeing StLouis on tv i decided to bust it out.

I've made it hard, used alot of braking bumps which look crap but do what i want them to do. The top guys were doing the rythem in the middle 3 3 2 1, thats possible on a 400 here but hard as sin. I've also gone 3 3 3 here but i can live with that.

It's high res, so the ruts and tex came out pretty good.

I made the stadium object on this and UVW mapped it, but %55 of the skin credit goes to Messiah or whatever he calls himself now and %40 to tk_corpse who made the people in the crowd, i did the rest.

Thanks also to Denny (Steel Design) for telling me how to render high res in TG and i used Phils and Myths track objects.

I know the track pic looks pretty bad but i didnt think it was worth spending a whole lot of time on, since its not going to get a lot of dl's anway.
Download for Motocross Madness 2 — or — Report broken link
Comments are being restored!
Want to help? Send coffee to tk_madmac