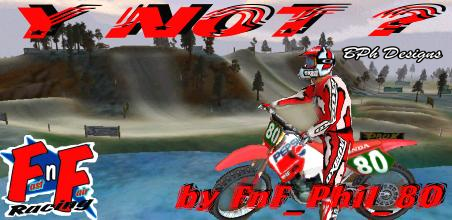 BPh_Designs (FnF_Phil_80) (Dec 07, 2004)
Well... Why Not ? is the title.
First of all, I want to say thanks to all the active community for the tutorials, objects and skies.
Thanks especially to Paul "El Diablo" for his animated startgate, Metal_Miracle for his help about the song file and Colin XPR_Tech for his beta test.
I'm actualy a little bit busy with the new game "Mototrax" but I have finaly found the time to finish this track started one month ago.
Thanks to HKR_Monkey for the song of his rock group ( http://www.next-stop-earth.com ).
A good lap will be around 2.30, don't be afraid to take some swimming time in the water, have fun and ride 10 laps before post a review.
(Some cheat lines can be found).
You need Winrar for this file !
Cya.
Phil.
Download for Motocross Madness 2 — or — Report broken link
Comments are being restored!
Want to help? Send coffee to tk_madmac