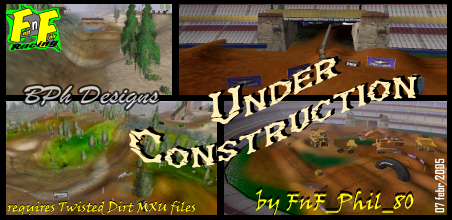 BPh_Designs (FnF_Phil_80) (Feb 08, 2005)
Here is an imaginary track. You will ride with a band of friends in a stadium under construction and
on a wooded hill.
Attention, the police men were informed by a neighbor and are already on your illegal track.
This scenario forms part of my past time lol.
You will need MXU RES files to run this track...
Dl the files here : http://www.twisteddirt.com/tdmxu.php
Have fun.
;-) Phil.
Download for Motocross Madness 2 — or — Report broken link
Comments are being restored!
Want to help? Send coffee to tk_madmac