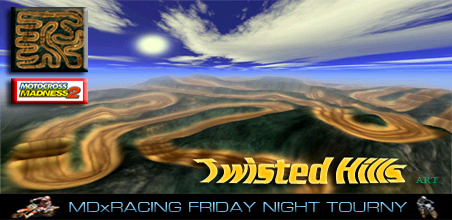 Art (Mar 16, 2008)
This, my latest but one track here has all the tight bends, jumps and hilly stretches that will keep you firmly gripping those handlebars \'till the end. My fastest timing so far is 2:3.19 (4:58.77) on a 125cc bike!

My sincere thanks goes to MDx_chris774 for testing it for
me and arranging for it to be entered into January\'s (18.01.08) tourny.

Race hard and have FUN.
Download for Motocross Madness 2 — or — Report broken link
Comments are being restored!
Want to help? Send coffee to tk_madmac