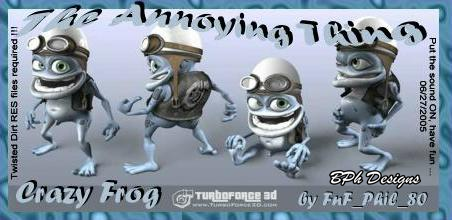 BPh_Designs (FnF_Phil_80) (Jun 27, 2005)
Hi all, here is my come back in track making...

After some busy weeks with other stuffs, I'm glad to present my latest creation.
THE ANNOYING THING (I think I don't must say who's the Crazy Frog...) is a national track with a WFO / SX style.
In my beta tests, my best lap was 129 but if you do a 135 you can be happy.
There is a special landing line for the little engines (you will find it on one of the triple jumps).
You will heart the music (dindindeling dindindeling... whaap whaaap) only near the finish line... in the beta version, the music was on the middle of the track and it was really ANNOYING after 10 laps lol.

Thanks to...
Metal Miracle about the sky,
TD and KXmoto about some objects,
OTHG Chris about his beta testing.

*** YOU WILL NEED THE TD RES FILES TO RUN THIS TRACK !!! ***

My next creations : MX1 round 3 to 17 !!!

Husky5 aka Bob, this track is dedicated to you, RIP my friend.

Have fun guys...
Phil.
Download for Motocross Madness 2 — or — Report broken link
Comments are being restored!
Want to help? Send coffee to tk_madmac