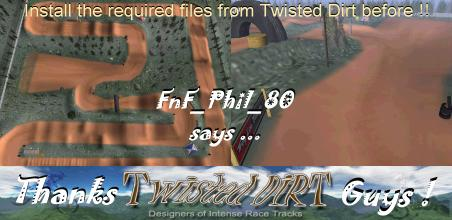 BPh_Designs (FnF_Phil_80) (Jan 18, 2005)
I had some free time this night.
Since Twisted Dirt got to us some great new stuffs, I think MCM2 is really reborning.
This track is dedicated to the TD gods.
It's the stock dispmap from Dillo, I made this track in 2 hours.
It was just for testing the new DilloToo with the famous trees and textures from MXunleashed.
The track was not bad, so it's uploaded now.
Download and install the TD required files before ride on.

Link and explainations : http://www.twisteddirt.com/
Files required : http://www.twisteddirt.com/MXUtracks/files/TD_Res.zip (put them in your MCM2/RES folder, maybe save your original files somewhere else before).

A good lap is around 0.45, cool track for the Hot Lappers.
Just have fun and review if you want, but don't forget, it was only for testing the new stuffs from TD and it's :-( to put this one in the trash without upload it lol.

Cya.

Phil.

Download for Motocross Madness 2 — or — Report broken link
Comments are being restored!
Want to help? Send coffee to tk_madmac