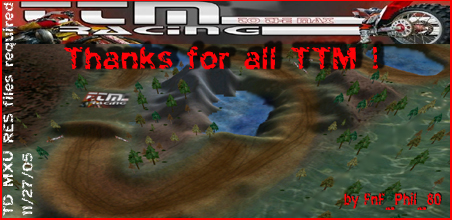 BPh_Designs (FnF_Phil_80) (Nov 27, 2005)
Well, every TTM user must know that the TTM website and recorder will maybe be down in some hours... Just check the TTM forum and you will understand what I mean !
Enjoy this creation, you will need the TD MXU RES files to run it.
Hotlap under the minute.
Thanks Twisted Dirt for the tools.

PS : post a maximum of records with this track at TTM... just in remembrance.

Track made in 3 hours, just for the TTM community.

Phil who's crying...

Download for Motocross Madness 2 — or — Report broken link
Comments are being restored!
Want to help? Send coffee to tk_madmac