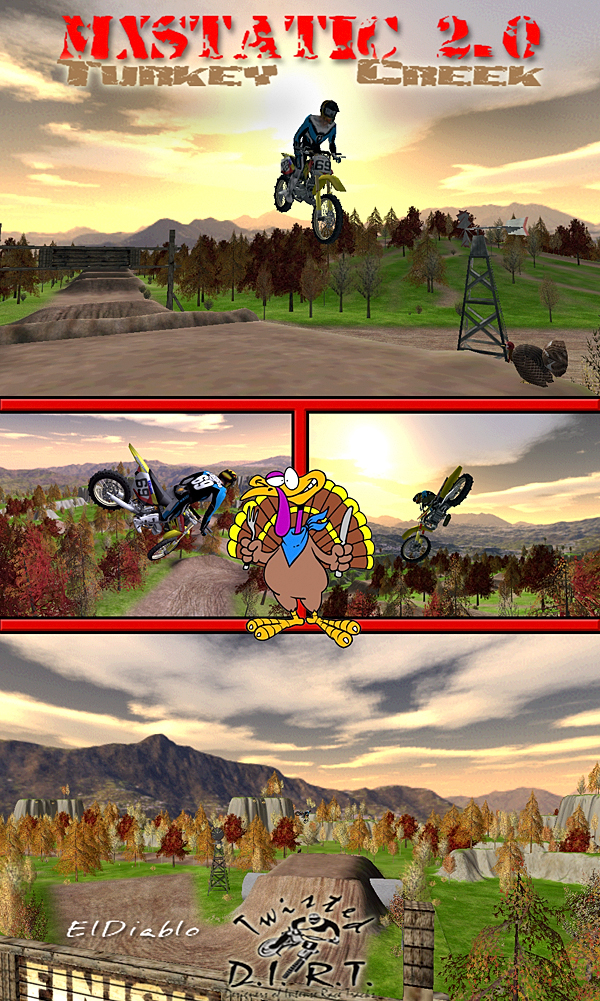 na (Nov 29, 2005)
Well...lots of people have asked for something more like MXStatic...so I put this one together just like I did MXStatic...it was designed and layed out in the same way. Then I decided to go one better and do it in HIGH DEFINITION this time. I did some new things with textures in 3D Max that makes the ruts really seem to jump out at you (bumpmapping).

This is a wfo/tech style nat. So far the best lap in testing was a 1:27 run by VRT_RideBlue (Dave). That is seriously smokin' and if you get anywhere around that you can consider yourself an MCM pro! lol

Just wanted to put something out for the holiday and this track presented itself at the right time. You'll have to look around for the other little extras...there's a Turkey in there hangin' out to 'gobble' at you when you finish each lap. Enough of my dribble...happy holidays...download this track, rip it up and if you feel like it...post back here and tell me what you like/dislike so I can keep tailoring the tracks to my audience.

ElDiablo (Paul)

Thanks to all my testers (you know who you are) and my co-horts at TD for all the help and continued friendship. Enjoy!
Download for Motocross Madness 2 — or — Report broken link
Comments are being restored!
Want to help? Send coffee to tk_madmac