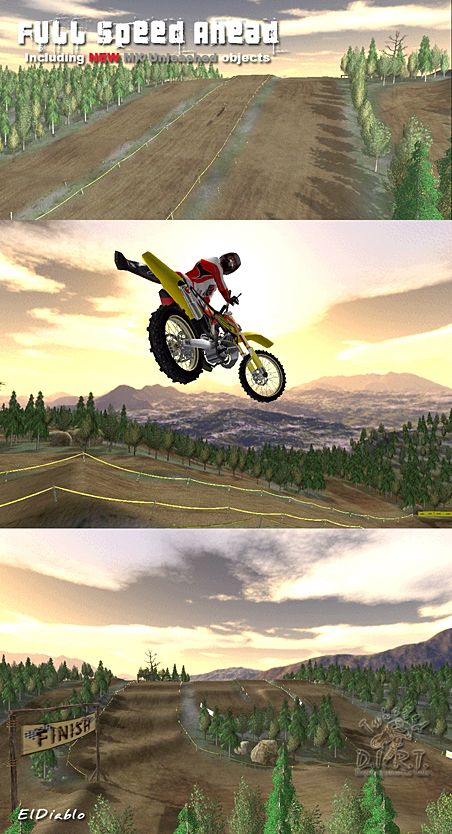 na (Oct 23, 2005)
As some of you may (or may not) know by now, I was recently given the HUGE honor of being asked to join Twisted D.I.R.T. ! Of course I said yes (with a few other explatives that we won't mention here! lol)

Well..so I'm BACK out of retirement with a track that goes back to my WFO roots! This track represents a collection of the efforts of TD and some of the hardest and most intense work that I've done on any track EVER!

Using the new Dillo Too v.973(get it at http://www.twisteddirt.com/tddownloads.php and don't forget the MXU res files-objects) I placed a total of 608 objects. Objects surround the track and keep you honest on this one NOT the spline. This should serve to keep everyone on an even keel.

There are TONS of lines to take here and every one of them is makable on all size bikes if you get up to speed. There are a variety of obsticles and plenty to look at. I recommend putting it in practice mode and looking around a little.

Here's a hint for a line that will have you yelling WHOOHOO...clear the big table top into the 270 berm and rail the outside and preload like a banshee... you'll see what I mean!

The skycube is my best ever and was done by downloading 12 DEM's (digital elevation maps) from the US Geological Survey website (of Yosemite Valley) and 'stitching' them together. Probably the most dramatic cube I've ever done.

Well..enough babbling from ME...I'll let the track do the rest of the TALKING. Download it, give it a run and post a review if you feel like it!

Most importantly...HAVE FUN...long live MCM2!

Paul Valenti aka ATR_ElDiablo

P.S. Best lap in testing was a 1:25 flat...see what you can do!
Download for Motocross Madness 2 — or — Report broken link
Comments are being restored!
Want to help? Send coffee to tk_madmac