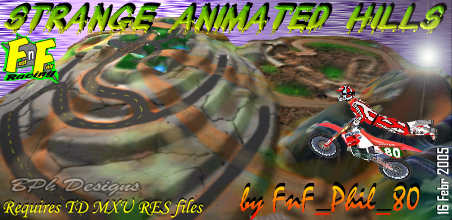 BPh_Designs (FnF_Phil_80) (Feb 16, 2005)
Well, here's another Phil's creation...
Bla bla bla TD MXU RES files before, or you will be back to your desktop.
You will learn to fly and landing with this track.
Don't forget your helmet and ride on the right side of the road (sorry for UK, AUS & SA lol).
Have fun, that's the rule !
;-) Phil.
Download for Motocross Madness 2 — or — Report broken link
Comments are being restored!
Want to help? Send coffee to tk_madmac