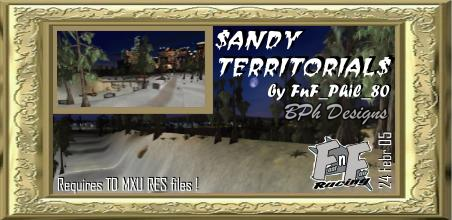 BPh_Designs (FnF_Phil_80) (Feb 25, 2005)
Main thing first make sure you have Twisted Dirt MXU Res files installed.

You will need Winrar to unzip the file.
Thanks to AUS_Twisted for the Melbourne's sky by night.
Thanks to TD, KXmoto45 and Extreme about the objects.
Thanks to the beta tester OTHG_Chris774.

In the beta version, my best hot lap was 145. You will need some preload and a good use of the brakes. Visit the rest of the map, like all my creations lol.
Have fun and see u on the TDzone also.
(In the game, the name of the track is $andy Territorial$, don't search it at the letter S lol).

Phil.

Download for Motocross Madness 2 — or — Report broken link
Comments are being restored!
Want to help? Send coffee to tk_madmac