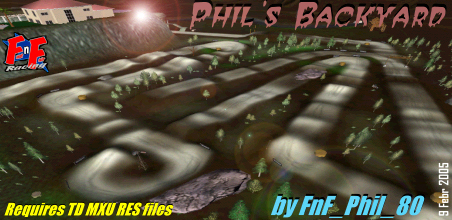 BPh_Designs (FnF_Phil_80) (Feb 09, 2005)
Well,
Here is a Hi-Tech track. The MCM2 pros will like it. The pads or sticks owners will be happy to have a good preload, some xperience in the game will be appreciated too. Use your brakes at the good moment, gaz and do a lap of 140 with no problem. I think it's a cool track for some contests between the diff MCM2 teams.

Dl and install TD MXU RES files before running this track :
http://www.twisteddirt.com/tdmxu.php

Have fun.
;-) Phil.
Download for Motocross Madness 2 — or — Report broken link
Comments are being restored!
Want to help? Send coffee to tk_madmac