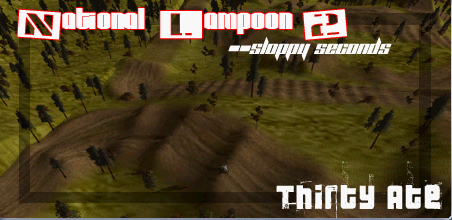 ((Thirty*Ate)) (Sep 21, 2004)
Well, I havent made a nat in a long time. Since 'National Lampoon 1'. I always wanted to, but never had the patience. I started this track about 6 months ago. And i finished the disp and it sat and sat untila few nights ago. I did the texts. Theres not too many objects but i didnt wunna lagg u guys out seeings how theres trees too. I didn't notice any diference in FPS wiht the trees. I still get about 100 with graphics up with or without them.
The track is rather long. I was scared i would make it too short and you guys would say it was boring. So i tried for a long track but i think i went a little overboard. When u get the lines u can run about a 2 min lap.

I hope you guys like this, I rushed to get it done so you would have something to play with until contest tracks are out!

-------------------------------------------
Thanks to:
Dobe for the base.
NFR_Holeshot for the Sky.


LATER......

Download for Motocross Madness 2 — or — Report broken link
Comments are being restored!
Want to help? Send coffee to tk_madmac