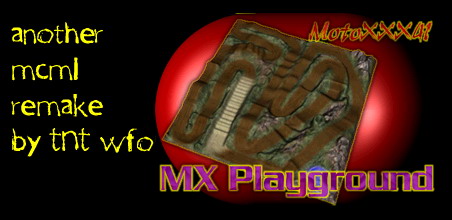 TNT_wfo (Feb 19, 2007)
Flashback to April 1999, Motoxxx41 (Ryan) releases MX Playground. Its a downloading frenzy on MCMEmpire.com. Track goes on to be a big hit. Pulled from the vaults, its remade 5 years later, now released to you in 07. Brought to you in its mcm1 state, original textures, disp map, skycube, no objects/veggys.
Enjoy.
Download for Motocross Madness 2 — or — Report broken link
Comments are being restored!
Want to help? Send coffee to tk_madmac