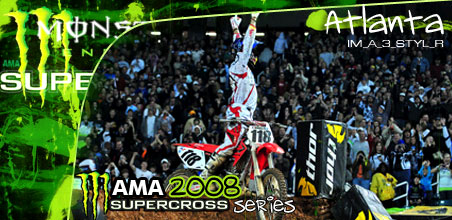 IM_A_3_STYL_R (Mar 13, 2008)
This is a replica of the Atlanta round of this years AMA Supercross series.
All up, it took me about 12 hours from start to finish.
I re-textured alot of the objects so they are current with this years sponsors ect.
Textures are a little dark in places, but hey... its a replica!

Lap times a with-in the real lap times posted by the guys on the nite which is nice too.
Big thanks goes to my man Sambo for testing it for me at VERY last minute hehe.

Thanks to Myth for his brilliant objects and all other i forgot.

Leave some messages peeps, if i get enough feed back, i can try make the other rounds even better!
Download for Motocross Madness 2 — or — Report broken link
Comments are being restored!
Want to help? Send coffee to tk_madmac