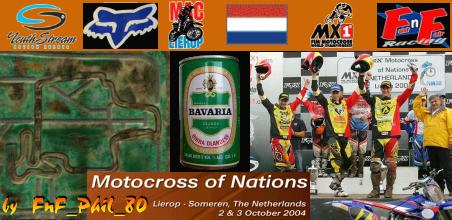 BPh_Designs (FnF_Phil_80) (Oct 25, 2004)
Hi all,
here's the MCM2 version of the last Motocross of Nations. It was at Lierop (Netherlands-Europe). Not like for the track of "Namur GP 2004", I wasn't there the D day but I did my best on this last creation.
In reality, the best time on this track was 2 minutes. In this version, a good lap will be under 1.10.
Thanks for the "Hawaian Punch"'s sky and thks to the creators of some custom objects.
The map is flat, the Netherlands are flat too lol. On this track, there are some awesome jumps and you will have a lot of fun on any stock bikes (125 -> 600 cc).
So, dl it, have fun and review some interesting messages...
Oh yes, congrat to the Belgian team for this another title !
Phil.
Download for Motocross Madness 2 — or — Report broken link
Comments are being restored!
Want to help? Send coffee to tk_madmac