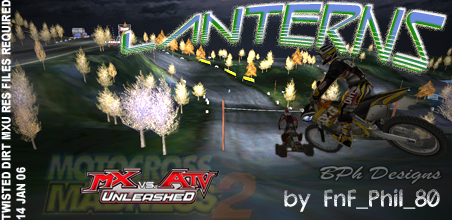 BPh_Designs (FnF_Phil_80) (Oct 04, 2006)
This is a re-up from a pack impossible to restore.

Original comment...

Hang Up in backward (LANTERNS).
Please, turn the inside house lights off, you will see where the track goes.
Slow lap : over 2'55 New vegetation also !
You'll heart a song from U2 (Vertigo).

Thanks to all the MCM2 community, enjoy and have fun.
Phil.

TD RES files REQUIRED !!!
Download for Motocross Madness 2 — or — Report broken link
Comments are being restored!
Want to help? Send coffee to tk_madmac