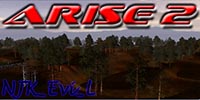 Missy_X (Dec 27, 2005)
Alright, here's my legacy part 1 lol .. had some people ask me to upload this classic track so here it is .. Made in the very beginning of MCM2 and still holding the record of most trees on a map ! lol (hey, i was going for the forrest feeling ok ?) .. Anyway, enjoy !
Download for Motocross Madness 2 — or — Report broken link
Comments are being restored!
Want to help? Send coffee to tk_madmac