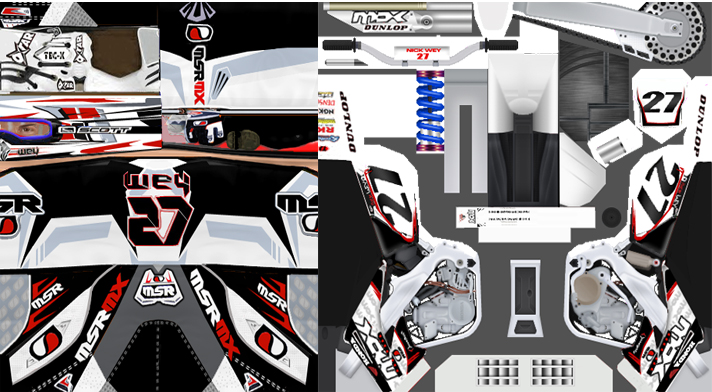 tff_thormx (Dec 20, 2004)
first of all very sorry for the big picture i just wanted to display each at its best quality. now on to the skins i know a few wanted wey along time ago well now u know why it takes longer for me, to do it because i don't wanna make a million as he updates to current sponcers and such. so i wait untill he shows up in his new stuff hes been in that stuff for 3 rounds now so i was able to get great pics of the lid and such.
on the gear: i would like to thank tk_disturbed for the boots. i just changed them to oxtar.
on the bike: i would like to thank VMX_gravity because its trully his awsome CR250 base i would allso like to thank mx33 for some of the parts.
what i did on the bike:i worked for 3 dam hours on those graphics u see i made the number plate decals,a new air box. put on all the sponsers. and made his pro taper bars. so theres that.
I made that 2005 MSR gear all my self a while back now. and i just made weys lid tonight as well as, found a pic of his eye and converted it so it would look good for the game. ok well now that im done yaking ...sorta included in this ZIP are 2 things weys gear and his bike the bike of course gos to the TD_honaCR. duh.... well thanks to all who enjoy my skins i try on them hard and put lots of time and effort and get lots of head achs. of course i can't take by any means all the credit for the awsome HONDA base so once again thanks and as allways d/l enjoy all
later Dave.
Download for Motocross Madness 2 — or — Report broken link
Comments are being restored!
Want to help? Send coffee to tk_madmac