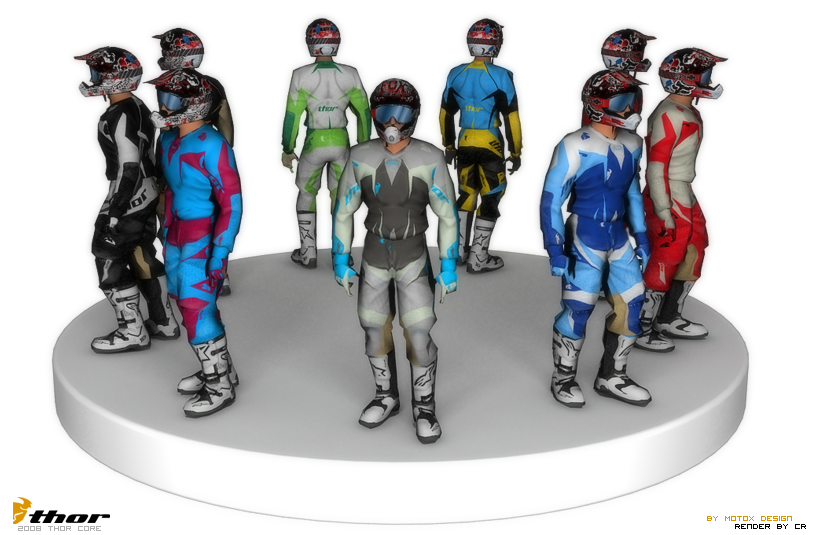 MotoX (Sep 22, 2007)
Hi There. Been awhile since my last release, The Fox Blitz. I really appreciate the the feedback and comments about it, Thanks. And here it is The 2008 Thor Core pack that i have been working on for some time now, and they came out pretty well. And yes, I know there is alot of thor gears but i just loved the color combinations and the design of the 08 gears so I had to be first to make them, Looks clean and lined up ingame.


Colors Included:
- Red
- Black/White
- Black/Tan
- Burgundy
- Concrete
- Navy
- Red/Charcoal
- Regal
- Spearmint

Zip Includes:
- .Pak file of All 9 Colors, Replaces the NoFear ingame.
- .Pak file of a new Thor logo that is Replacing the NoFear.
- .Dxt Files of all 9 Colors.
- .Png Image of the Render.


Thanks to everyone who Tested it and gave me suggestions about it.
Special thanks to Corpse for hes Ridertemplate and Clint (cR) for the awesome Render, Thanks guys appreciate it so much.
Hope you like it and please keep the comments Clean and about the gears, Other questions go to the Forum here or
over at, Motocrossgamingforums.com


Thanks, Motox.

Download for Motocross Madness 2 — or — Report broken link
Comments are being restored!
Want to help? Send coffee to tk_madmac