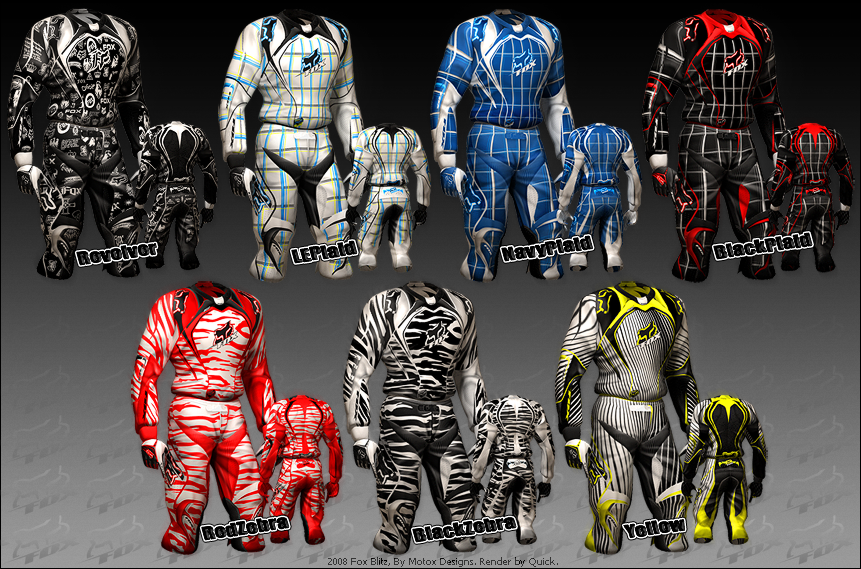 MotoX (Sep 14, 2008)
Sup everyone.
I\'m back again with my newest creation, the 2008 Fox Blitz Gears.

It was a long time ago since i released anything, and I finally got motivation to finish these after a long time. Maybe a little late, as the 2009 Fox gears is released but I still think a lot of you will enjoy this set of gears. I have been working many hours and very hard to get this gears done, especially with the different kind of patterns and designs the 2008 gear have. Everything is done by me in AdobePhotoshop except for the Template made by Corpse and the face, done by MessiaH. Also thanks a lot to my brother Quick, for doing the great Render.
The RarArchive includes; Pak file (Replaces the Oneal gears in game) and Dxt files of all the 7 colors. If there is any questions, please go to Motocrossgamingforums.com

Colors:
Revolver
Yellow
NavyPlaid
LEPlaid
BlackPlaid
RedZebra
BlackZebra


Thanks for downloading, and please reweiw.
© 2008 - Motox Designs, Rickard Larsson.
Download for Motocross Madness 2 — or — Report broken link
Comments are being restored!
Want to help? Send coffee to tk_madmac