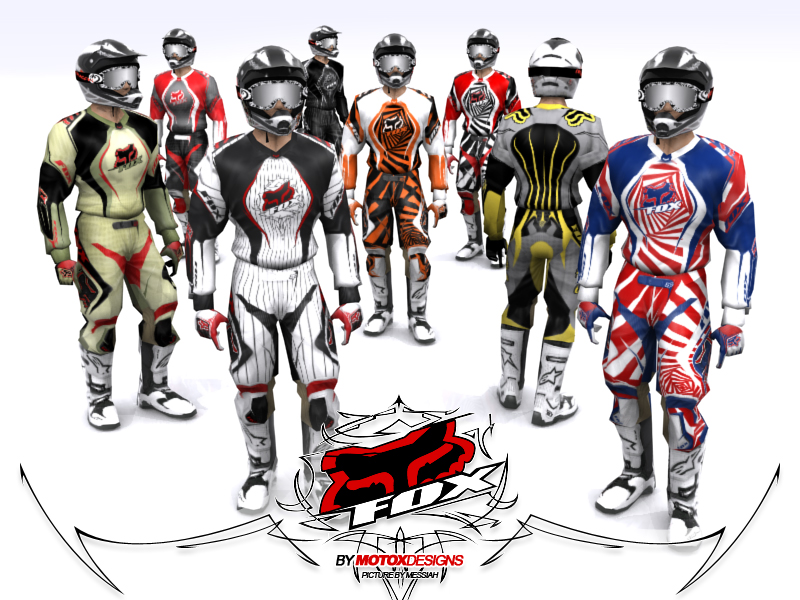 MotoX (Jul 02, 2007)
It's finaly here, My 2007 FOX Blitz Pack.
Have been working on this for a long time now, and i'm sure you will like it.
I didn't think this should take that long time it took but the project did drag out of the time since i lost some motivation, sorry.
And I tried to make this gear to look close as the real ones as i could, the MvA rider model did it hard but i think i make it well.


Zip Includes:
- PAK File, Just extract to the Data folder of Mx vs. Atv, It is replacing the 8 Acerbis gears.

- DXT Files, Adding to the game by using Multiex Commander.

- PNG File, For a look at the template


Colors Included:
- White Pinstripe
- Black Pinstripe
- Red Vertigo
- Blue Vertigo
- Orange Vertigo, Ricky Carmichael Limited Edition.
- Red
- Green
- Yellow


Thanks to:
Corpse - For hes sick rider template.
MessiaH - For the great Render of the gears.


I hope you like it and if there's any problems let me know. Feel free to leave comments, but don't spam it full of questions, go to the forum if you want help. www.motocrossgamingforums.com. And please don't rip.


Thanks, Motox.
Download for Motocross Madness 2 — or — Report broken link
Comments are being restored!
Want to help? Send coffee to tk_madmac