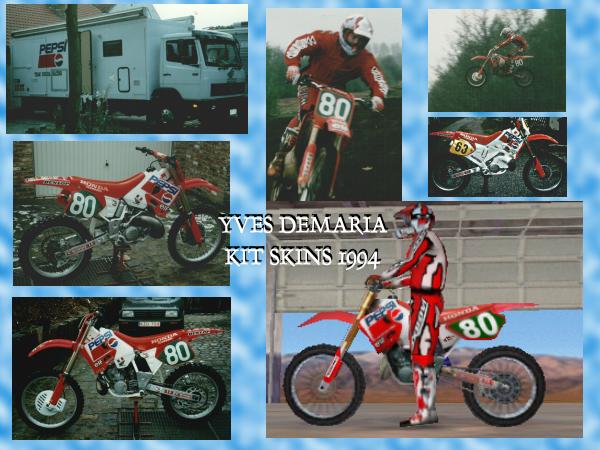 BPh_Designs (FnF_Phil_80) (Nov 20, 2004)
DEMARIA 1994 SKINS

In this kit :

1.Demaria rider skins with and without name and numbers.
2.Demaria bike skins with and without numbers (dirty versions available too).
3.My own personal skin (if u ride with me or VS me online lol). This is my final own skin for MCM2.

Little story : Tefli (Yves Demaria) was one of my pro mx friends in the 90's. In 94, this guy won all the last gp's of the season.
He's french and I'm belgian !!! , I was a fan of him and buy 2 CR250 at the end of the year 94 (by Becchis Italy). These bikes had some factory pieces and I had a lot of fun with these in the years 95 & 96. It was the end of my real carrier. I can speak about that during a lot of time but here's not the subject.

So, if u like these skins, enjoy and cya on the zone.

Phil.

(It's me on the pics and it was the lorry of Yves Demaria - Tallon Vohland drived by Philip G. (aka Bud Racing) the best mechanician for me, also in the 90's lol).

Download for Motocross Madness 2 — or — Report broken link
Comments are being restored!
Want to help? Send coffee to tk_madmac