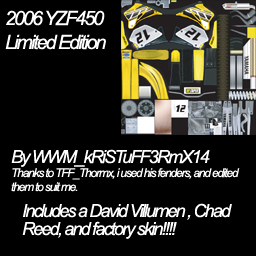 WWM_kRiSTuFF3RmX14 (Sep 26, 2005)
3 bikes included...david vuillemins limited edition bike, chad reeds bike, and a factory one that you or me would buy! they are 1024 skins, thats why the file is so big..download and enjoy!
thanks to tff_thormx, i used his fenders (front) along w/ the tire. (i made changes to them to suit my bike)...
ENJOY AND COMMENT NOW!!!! lol..
Download for Motocross Madness 2 — or — Report broken link
Comments are being restored!
Want to help? Send coffee to tk_madmac