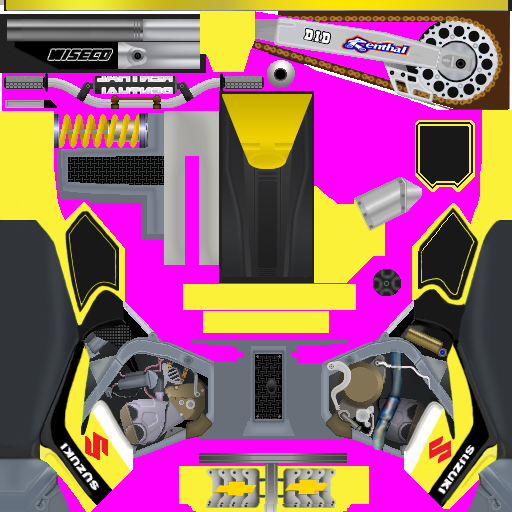 Moto-x_Pat (Jul 04, 2004)
This bike was a pain in the butt to get it the way I wanted it. It took me a lot of time to make everything work. I decided to make this skin because nobody has ever made a really great RMZ. I am not saying that mine is great, but it looks better than most in my opinion.

The base was done by FSB_MxWilbur. The engine came with the base, so I am assuming that FSB_MxWilbur did that too. I also used a fender well from disturbed. I hand painted the graphics myself.

The skin pack includes a factory Suzuki with no numbers, Davi Millsaps's bike, Branden Jesseman's bike, and Broc Hepler's bike. I know that the skins are not 100% accurate, but they get the job done.

This skin was designed for the TD_YZ250F model. I included that model inside the .zip just in case some of you don't have it. There are some minor flaws in the skin once it gets on the model, but they are not very noticable while you are playing the game.

Well, that's it...please review and enjoy.
Download for Motocross Madness 2 — or — Report broken link
Comments are being restored!
Want to help? Send coffee to tk_madmac