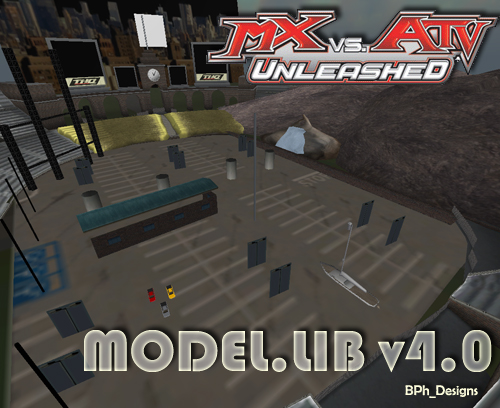 BPh_Designs (FnF_Phil_80) (Jun 06, 2006)
FOR MXvsATV TRACK CREATORS !!!

Well, here is, if nothing change in a near future, my final modded lib file. ALL the stock objects from MVA can be added into your tracks. Some are without colision, they have a * front of their names. Install this file into MVA\media\ and it's recommended to use it with a new project (export bug). TIP about adding the stadium parts, zoom and click on the square of the blue arrow on the center of the map, that will put the objects welded together and well placed. When you'll add crowd and seats, make sure these objects don't touch the stadium parts or you'll have some onscreen issues... check all the objects and have some imagination... (mix between 2 stadiums, etc etc...).

Stay tuned and check www.mdxtracks.com for any news...
Download for Motocross Madness 2 — or — Report broken link
Comments are being restored!
Want to help? Send coffee to tk_madmac